Red Hot Fetish Collection 97: Rin Yuzuki
[RED-153]
Starring: Rin Yuzuki
Length: 110 min
Release Date: 11/19/2011
Series: Red Hot Fetish Collection
Studio: Red Hot Collection
Red HOT continues to deliver some of the hottest uncensored Japanese adult video porn content to the Gaijin market.
Rin Yuzuki is one freaky little JAV Idol on one of the best Japanese porn dvds to be released this autumn.  Deep Throat Blwojob with two cocks?  How can such a little Japanese idol get so much dick down her throat?  Many Japanese girls struggle to take one cock, either in their mouth or pussy, yet somehow Rin Yuzuki manages to take two.  And she does it well.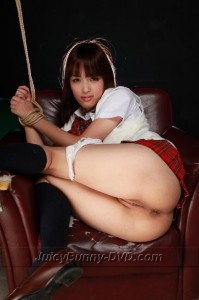 Rin also combines schoolgirl cosplay and shibari (Japanese ropes/BDSM) with Anal fucking fetish scenes.  I love the way Japanese directors will slowly open a girl's ass to prepare them for cock.  In Rin's case they cram the anal beads in head first to prepare her for much anal abuse later in the DVD.  Poor, Rin, Lucky Us.  Nothing slow going on in this scene.  These guys are sex freaks and we love what they shoot.
The DVD climaxes with an intense double penetration creampie scene that leaves Rin begging for more or begging the two brutes attacking her to stop….you be the judge.  All together, I would give this DVD a superior rating for fans and lovers of anal fetish and Japanese anal fucking movies.
Paipan (shaved pussy) schoolgirl Rin Yuzuki loves anal!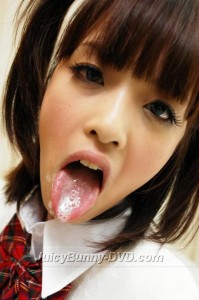 1) masturbation
2) 2 dick deep throat
3) Anal fetish fuck
4) double penetration creampie
Kabukicho girl Rin Yuzuki loves anal beads and thick rubber cocks
Follow the Horny Asian Girl – Twitter.com/#goldengeisha